[I always like a good map, and this article offers several. Concentrating low-income students and minority students in schools has serious repercussions for schooling and learning. As the article points out, students living in poverty have the cards stacked against them and concentrating them in schools together makes it harder for the adults to serve them effectively. Plus, it allows other, not-poor students to glide through public schools wholly unaware that there are students who grow up in different conditions, missing opportunities to confront their own privilege. My high school, the poorest in my hometown and the most diverse (actually diverse, not just as a euphemism for majority minority — when I attended 60% were on free/reduced lunch and about half of us were white and half of us were black).  Parents from white upper-middle class backgrounds were (and are) afraid to send their kids there. But to my view, I gained from going to school with people different from me and my school (at least according to test scores) did the best job educating black boys in the city. Did the school have issues? Yes. The hallways were integrated and the classrooms generally were not. But without integrated hallways it is impossible to integrate classrooms. Integration, as the article points out, is a right and our country needs to consider both racial and socioeconomic diversity in its policies. Policies, the article makes clear, beyond the realm of education. Housing policy is a key factor in helping to create a country in which "poor kids are six times more likely to attend 'high-poverty' public schools." Hopefully these maps will put some fire under us.]
Who attends America's "high-poverty" public schools—and where.
By Tanvi Misra
May 14, 2015 The Atlantic City Lab
U.S. public schools and the neighborhoods in which they're located are inextricably tied together. Growing up in economically segregated, low-income neighborhoods comes with a host of disadvantages, one of which is that local schools tend to be underfunded. That means that kids who attend these schools don't get the same kinds of opportunities and resources that students in other, better schools, do. As a result, their academic performance and, ultimately, their propensity for social and economic mobility suffers.
Earlier this year, the Southern Education Foundation released a report that revealed the full scale of just how many disadvantaged public school attendees there are in the United States. They calculated how many students qualify for free and reduced-price lunches, and found that these pupils make up more than half of those attending public schools in the U.S. (Given changing enrollment and eligibility rules, school lunch eligibility isn't perfectly demonstrative of poverty—but it's still a pretty good indicator of it.)
The SEF study examined concentrated poverty in American public schools by state. Now, the Urban Institute has taken a deeper dive by mapping the data by county, illuminating how poverty and race are distributed in public schools across the country.
There are three main takeaways of their analysis:
1) Poor kids are six times more likely to attend 'high-poverty' public schools
High-poverty public schools are defined as those in which more than 75 percent of students are enrolled in the school lunch program. So poor kids—who are already at a disadvantage before they even start school—disproportionately attend schools that don't have as many resources to get them up to speed.
"Some children from poor families will need more attention and resources to perform to their potential," Reed Jordan, the researcher behind the Urban Institute's data analysis, writes via email. "High-poverty schools tend to lack many of these resources, let alone things that are considered 'extras,' like after-school programs and AP courses."
According to Jordan's analysis, around 40 percent of kids from low-income families go to high-poverty schools, while only about 6 percent of kids from such families attend low-poverty schools (where less than 25 percent of their peers also come from low-income families). For kids from families above the low-income threshold, the opposite is true: only 6 percent go to high-poverty schools, whereas 37 percent go to richer, more well-equipped schools. The Urban Institute doesn't mince words when explaining the data:
This is concentrated disadvantage: the children who need the most are concentrated in schools least likely to have the resources to meet those needs.
The following two maps illustrate the imbalance; the one on the left shows the share of low-income kids attending high-poverty schools across the country, while the one on the right shows the share of students at these schools who are not from low-income families: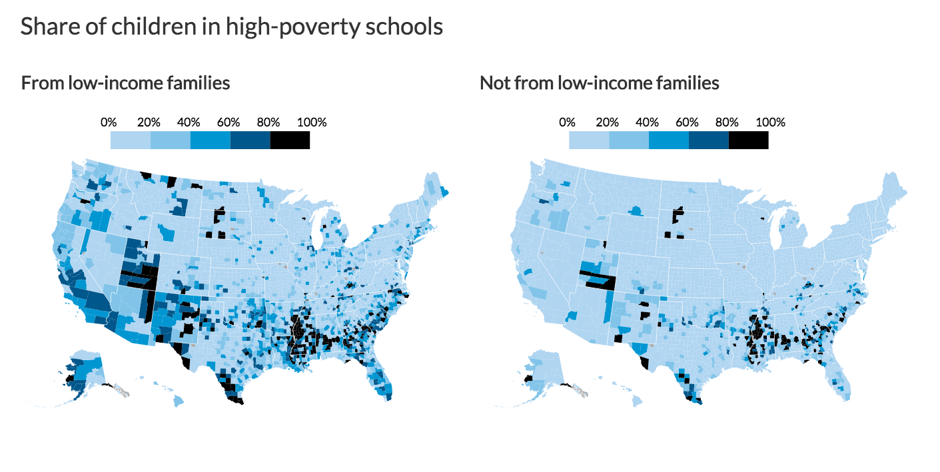 2) Poverty isn't just concentrated in inner-city public schools
Southern states such as Louisiana, Mississippi, and Texas have the highest concentration of poverty in public schools. But within these states, it's the rural schools that have the largest proportions of low-income attendees. Schools in Jackson, Owsley, and Clay counties in Kentucky, for example, have more than 60 percent low-income students. And this pattern is true across the poorest parts of rural Mississippi, Alabama, and Georgia.
In the north, poor do students tend to concentrate in urban schools, such as those in Hennepin County in Minneapolis, and Marion County in Indianapolis. Schools in heavily Native American areas, such as the Lakota region of South Dakota, also have large shares of low-income students.
Here's a map showing the share of low-income public school-goers by county: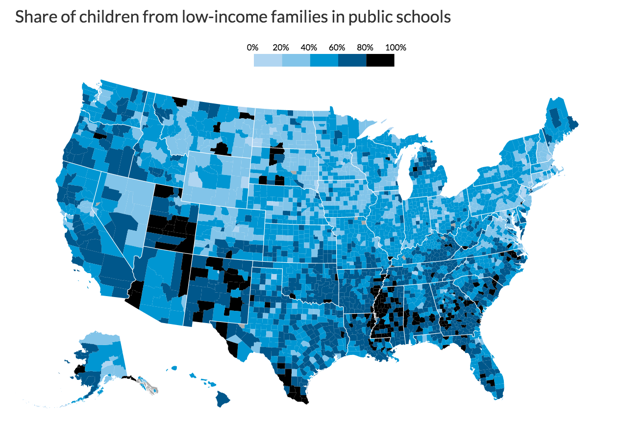 3) Black students are six times more likely to attend high-poverty schools
While 45 percent of black students attend high-poverty schools, the share of white students attending these schools is only 7 percent. On the other hand, only 8 percent of white students attend poorer public schools; around 30 percent go to low-poverty ones. The Urban Institute summarizes the racial imbalance this way:
In some metropolitan areas, the racial concentration of school poverty is so severe that black and white students effectively attend two different school systems: one for middle- and upper-middle-income white students, and the other for poor students and students of color.
This is especially true in the major metro regions of the Northeast and Midwest. In Chicago's Cook County, for example, 75 percent of black teens go to high-poverty schools, while only 10 percent of white students attend these schools.
Below, the map on the left shows the share of black children in high-poverty schools, and the one on the right shows the share of white children at these schools: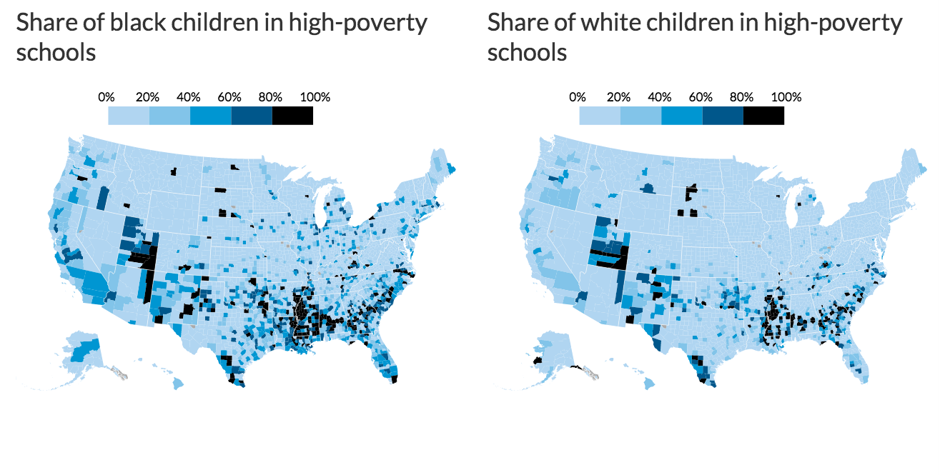 The key to resolving these disparities may lie in combining fair housing policies with education policies geared toward integration, according to the Urban Institute. Montgomery County, Maryland, for example, has seen some success implementing such a program. The case of Louisville, Kentucky, proves that desegregating public schools isn't an easy task. But it's a necessary one—a public school that helps its students succeed is more than a public amenity, it's a civil right.